Trends
The world's most expensive handbag can be yours (if you have the money)
It's called "Mouawad 1001 Nights Diamond Purse". And it's been rated as the world's most expensive handbag. The good news is that now it can be yours. As long as your pocket allows it, of course.
We're not talking about buying a low-cost copy. Actually, we're talking about the possibility of getting the real thing. The Mouawad 1001 Nights Diamond purse is a unique, heart-shaped bag with 4.517 embedded diamonds. Including some which are yellow and rose, very difficult to get.
Designer of the bag is Robert Mouawad, well known in the world of luxury, because he has already designed the most expensive bra in history. Back in 2003, experts valued the bra at 11 million dollars, when it appeared in the annual Victoria's Secret fashion show.
And in 2010, someone bought the lavish diamond handbag for 3.3 million dollars. Now, it's for sale again. British auction house Christie's aims to sell it in a private auction in Hong Kong next week. Along with many other luxurious bags.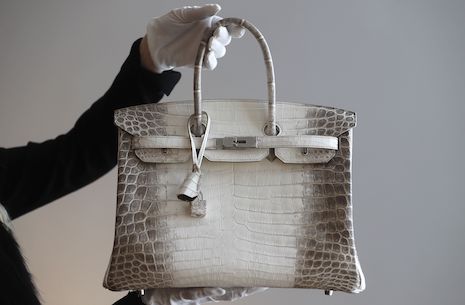 After all, auction houses don't only live from art pieces. And CHristie's knows it well. This is not the first time that they organize an auction for luxury items such as jewelery or bags. Although the Mouawad 1001 is the most expensive bag in history, the other handbags that will be auctioned are also pure luxury.
Among them will be models by Chanel, Gucci or Louis Vuitton. Also a Kelly by Hermés, one of the most iconic handbags in the world. It was designed by the French maison for actress Grace Kelly. The one that goes to auction belonged to Elizabeth Taylor. And Christie's expects to sell it for more than $ 30.00.
LIKE IT?
Then you might also like reading an article about the 10 cities with the most beautiful women in the world. Only in Yourselectednews.com